Remember when the fad of stand-up paddle boarding (SUP) first emerged? Catching you out of the corner of your eye was the image of a person standing on what seemed to be a surfboard, but paddling with an oar. The person was long gone before you even began to think that this was the future of surf recreation.
It's unbelievable how prevalent stand-up paddle boarding has become, with a flurry of takers populating every major beach city in Southern California. Well, it turns out that we wanted in on this "fad", and thought you might, too.
Pro SUP Shop has some great programs in Santa Monica and Marina Del Rey that are ideal for beginners that include one-on-one SUP lessons, or group lessons. They even hold races and bootcamps for the novices and ones looking for a bit of a workout. Also, the night-time rides look like a whole new experience in itself.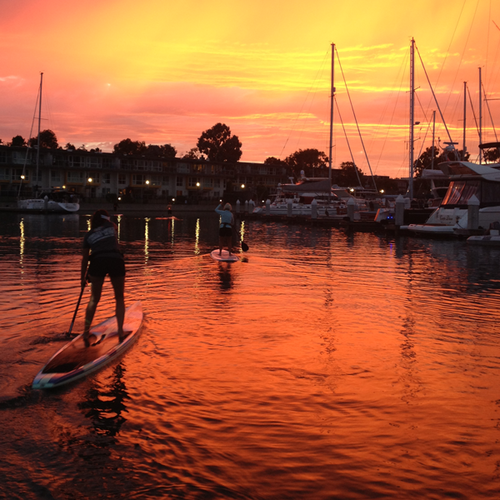 Another place to get a good lesson is from Stand Up Paddle Boarding with Wade, whose laid-back approach makes your lesson seem like you're out with a friend who just happens to be giving you valuable tips here and there.
Now, I'm going to throw in a some SUP with a little twist. What happens when you fuse yoga and SUP together? Well, you get YogAqua in Marina Del Rey, "where the ocean is your yoga mat". I haven't personally tried this, but it sure does look like it would elicit the zen out of me. It has very favorable reviews (and deals!) on Yelp which has people accepting this intriguing concept. It couldn't hurt, could it?
It's now time for you to take a stand…on a paddle board, that is, and get acquainted with the shimmering bluish waters of the marina and the great Pacific.
And if you happened to paddle over while searching for Playa Pacifica Apartments or Playa Del Rey apartments, please head over to our Playa Pacifica website for availability.